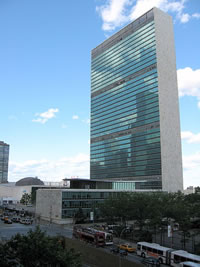 NPT Review Conference – Final Outcome
The last day of the NPT Review Conference saw much drama and confusion as people waited anxiously to see whether all 189 states could accept the text of the final statement. The world was kept waiting while Iran sought further instructions from Tehran before finally to the relief of many accepted the final document. The major triumph of the conference is therefore the success in bringing 189 states to a common agreement on a way forward on nuclear weapons – a topic which has proven and will continue to be so divisive.
So what actually was agreed? Somewhat surprisingly states agreed to discussions on a Middle East Nuclear Free Zone which Egypt and others are adamant is a necessity if nuclear proliferation in the Middle East is not to accelerate. A regional conference on a nuclear free Middle East is proposed for 2012 although the hurdles to achieving this appear significant.
The UK for the first time declared the number of warheads in the UK arsenal in order to promote transparency and trust. This followed on the heels of a similar announcement by the United States at the start of the conference.
The major disappointment has been the refusal on the part of nuclear powers to offer to meet the demands of the vast majority of states for discussions on achieving global zero . The UK joined other members of the five recognised nuclear powers in refusing to timetable discussions on a road map or a new international treaty that might eventually lead to the elimination of all nuclear weapons. Non-nuclear weapons states made very plain their view the Non-Proliferation Treaty contains within it a bargain whereby in return for constraint on proliferation the nuclear powers must show willingness to achieve complete and general disarmament.
We have made the demands of the Now is the Time campaign clear to the Foreign and Commonwealth Office prior to and during the Review Conference. There have been some helpful initiatives on the part of the UK. However, while sensitive discussions were taking place towards in New York your petition was delivered to the Prime Minister in Downing Street with a letter demanding greater flexibility on the part of the UK government on discussion of the road to global zero. We have been promised a formal response and will keep you updated.
Links:-
The conference was attended by representatives of governments while a large number of NGOs attend fringe meetings and meet with government delegations.